VENTILATION
HAMILTON-MR1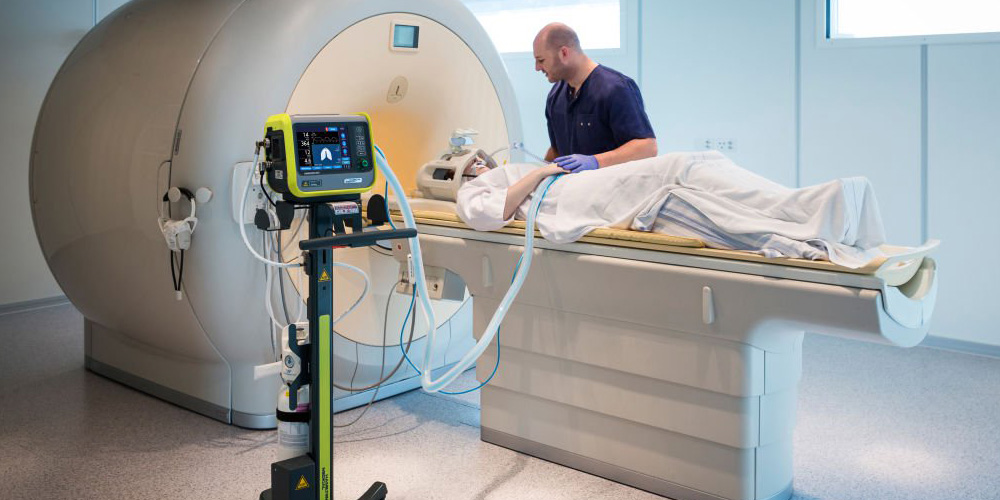 Intelligent Ventilation from ICU to MRI
MR Conditional (up to 50 mT)
Integrated TeslaSpy gaussmeter
Adult, paediatric, and neonatal ventilation
Independent air supply
Non-invasive ventilation and integrated high flow oxygen therapy
The fully featured ICU ventilator, HAMILTON-MR1, guarantees uncompromised continuous ventilation care from the ICU to the MRI scanner and back. Its reliability and high performance, with advanced lung-protective strategies and patient-adaptive modes, make the HAMILTON-MR1 the ideal choice for any critical care department that needs to transport ventilated patients to the MRI department.
The integrated high-performance turbine enables the HAMILTON-MR1 to be completely independent from compressed air. This reduces weight and saves space during intrahospital transport.
The HAMILTON-MR1 includes Hamilton Medical's standardized Ventilation Cockpit user interface and the unique intelligent ventilation mode, Adaptive Support Ventilation® (ASV®).