PERIPHERAL DEVICES
HAMILTON-H900
Humidifier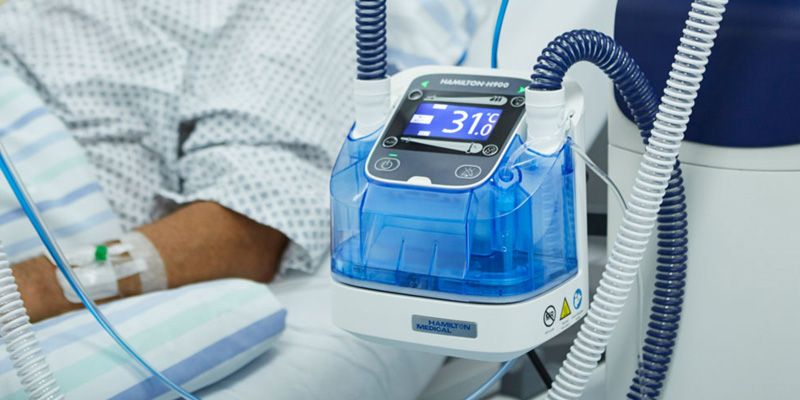 Innovative two-step set up to get you started quickly
Integrated temperature probe
Wall-heated, all-in-one breathing circuits
Adjustable temperature and humidity settings
Remote control from any compatible ventilator
Pre-assembled and ready for use
The HAMILTON-H900 humidifier has been developed with focus on ease of use and patient safety allowing caregivers to focus on the important aspects of patient care. It offers an innovative two-step set up to get you started quickly.
All connections on a humidifier are in a single breathing set enabling one-hand operation. Due to the ergonomic design, the user interface can be easily seen and provides all needed information at a glance.
Smoothbore breathing sets with embedded heater wires – available for adults, paediatrics, and even neonates – lead to significantly reduced condensation. This, in turn, ensures the delivery of the set level of humidity to the patient. Thanks to the integrated temperature probe, extra working steps belong to the past.
HAMILTON
IntelliCuff®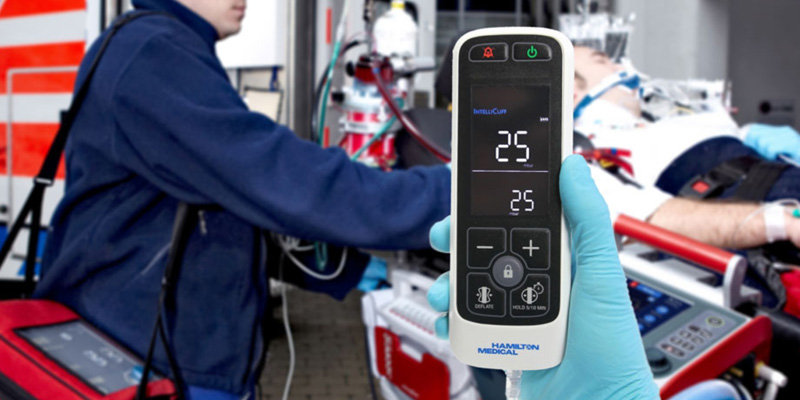 Ensuring optimal cuff pressure and patient safety
Automatic measurement and adjustment of cuff pressure
Reduced risk of ventilator associated pneumonia (VAP) and tracheal injuries
Easy and intuitive operation
For critical care, interhospital transport, and anaesthesia
Continuously optimized and controlled cuff pressure supports ventilation therapy and protects your patients from VAP and tracheal injuries – whether you use IntelliCuff during air transport with quickly changing ambient pressure, or in the operating room for N2O narcosis or laparoscopic abdominal surgery.
IntelliCuff is developed by Hamilton Medical and designed for immediate use; no calibration is required. It operates in a wide but still safe range of desired cuff pressures for various cuffed endotracheal tubes to provide suitable solutions for various clinical situations. You just set the desired cuff pressure, which is then maintained automatically.
HAMILTON
VENTILAIR® II Compressor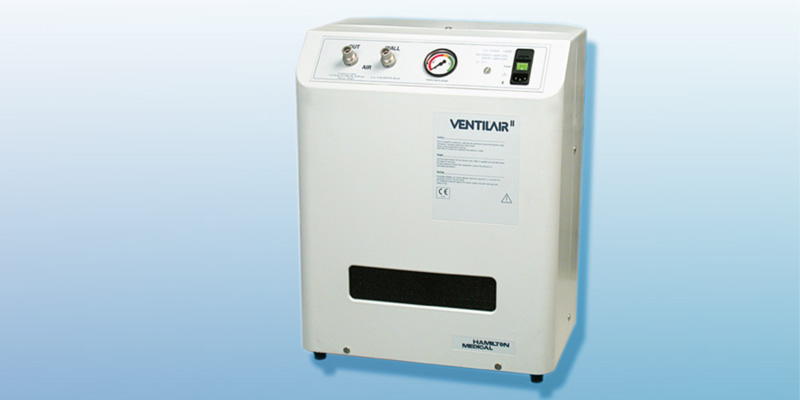 A reliable and powerful source of compressed air
Reliable, durable Swiss design
Delivers dry, clean medical-grade compressed air
Optimal cost-performance ratio
Clear indication of compressor working status
With its superior pressure and flow characteristics, the VENTILAIR II compressor ensures a constant, clean, dry compressed air supply for medical ventilators.
It can be used either as a primary air source or as an automatic backup to a hospital's central air pipeline system.
An automatic switchover feature provides compressor output to the ventilator without delay when gas pressure falls.
The VENTILAIR II is available for use with all Hamilton Medical ventilators without independent air supply: HAMILTON-G5, HAMILTON-S1, GALILEO, and RAPHAEL or in a mobile version for general-purpose use.